Granting Property Access to Another Company or Receiving Access to Another Company's Property
Roles: Admin
Last updated: January 2020
In order to streamline user access, Group Access can be granted to a company rather than to user accounts.
For example, an installation company can be granted access rather than adding individual users that work at the installation company.
Company permissions differ from standard user permissions as they allow access to a group of users. This feature can streamline access needs and reduce the email or phone requests that might otherwise be needed if additional employees need access to a particular property.
When You May Want to Give Access to Another Company
The following scenarios demonstrate the use of company permissions:
Your distributor provides pre-programming services and needs to be able to create and program properties under your company

A technician and installation company is installing equipment and/or needs continued access under their warranty provisions

A billing company needs access to reads before a different installation company has completed its contracted work
Who will have Access to My Property if I Grant a Company Access?
Access permissions will be automatically allocated to employees of the company at the user-role level that you select when granting access.
The individual users are managed by the company which you add. As with all properties, any changes to the property information or programming is logged and is visible to admin users.
I have Received a Company Access Code, What do I do with It?
If a company has given you their access code, you can now add it to the property to which you would like them to have access.
Navigate to the property listing

On the Property's menu, select the "Users" page
At the top right, select the Groups button
Enter the code you received from the company

Designate the user-role level the company needs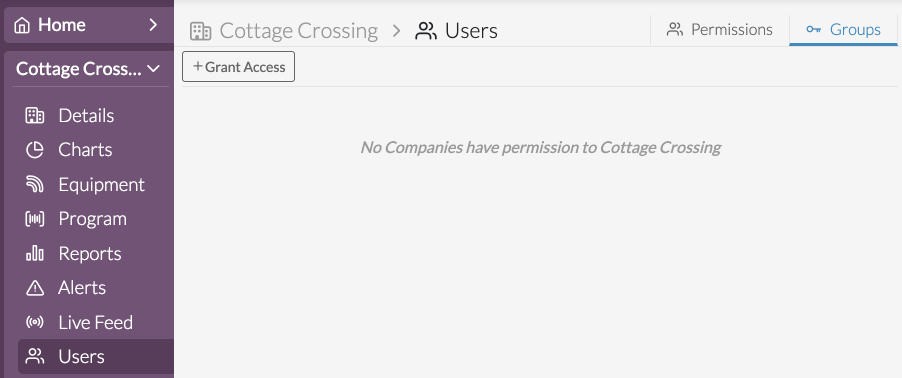 Where do I Find My Company Access Code in order to Give It to Another Company?
In order for your company to be granted group access to a property, you will need to send your company code to an admin-user at the company which has the property.
Where Your Company Code is Located:
Navigate to the Users page under the Home menu

At the top right, select the "Groups" tab

Select the "Show Key" button

Copy the code and send it to the company which needs to give you access
Note:
Your company's code is a unique string of characters that is private, however, it is not a security key. It is only used to
give
your company access. It does not allow other companies to have access to your properties.