Subscriptions and Payments
Roles: Admins, Developers, Accountants
Last updated: March 2021
NextCentury offers several subscription-based services, providing flexible and convenient solutions for your organization. The pricing is clear and there are no contracts or hidden fees. Whether using Cellular, Data Hosting, Manual Reads, or other subscriptions – NextCentury makes it easy to utilize and pay for these services.
Users can view, edit, and manage their subscriptions as well as securely submit and keep track of payment information all within the NextCentury Web Portal. We are available to answer your questions, contact NextCentury Support, M-F 6:00 am to 6:00 pm MST.
How It Works
This service allows GW301 Gateways to connect to the NextCentury Cloud on a cellular connection. Great for properties that might not have a dedicated Internet connection available or as a back-up connection during Internet outages.
Features and benefits include:
Restrict access by User roles and permission

Not susceptible to Firewall issues

Works independently of a local Internet connection

No contracts or set term limits

Can be toggled off or on at any time

Flat $20 fee with no data restrictions
For additional information on Cellular services, see Cellular Subscription Plan.
Data Hosting comes standard with NextCentury Cloud services. Required for ongoing access to read data collected by NextCentury equipment.
Features and benefits include:
Securely store up to 6 months of read data

Personalized Web Portal: a

nalyze, retrieve, and view data remotely

Dedicated NCSS Mobile App: i

nstall, maintain, and test equipment

Automatic Reporting Tools & API Access


Alert Notifications




Unlimited User Accounts

Initial Company Training: navigation, User set-up, Reports, Alerts, etc




Can be toggled off or on at any time

Flat rate of $.25 Per Meter with a $25 Per-Month Minimum
Contact NextCentury Support for additional details.
Manual Reads can be used to store and retrieve reads which are collected manually rather than through an automatic system. This service allows organizations to take advantage of NextCentury Data Hosting and Cloud features even when NextCentury equipment is not utilized at a location.
Service includes:
Display and track manual read trends

Schedule manual read visits, due dates, and more

Restrict User access and assign specific Manual Readers

Track meter information and locations

Pair reads with photos, notes, descriptions, and more

Can be toggled off or on at any time

Flat rate of $.20 Per Meter with a $10 Per-Month Minumum
For information on Manual Read services, see Manual Read Properties.
To enable a service, scroll to the bottom of any property Details page and select the toggle to turn the desired service on or off. The services start date and renewal date will then be set.

Note: Payment information and user permission must be configured before services can be enabled.
Open the Billing page and then select the Settings tab. Toggle the desired User roles for each service type. Unless selected, the User role will be unable to enable the service.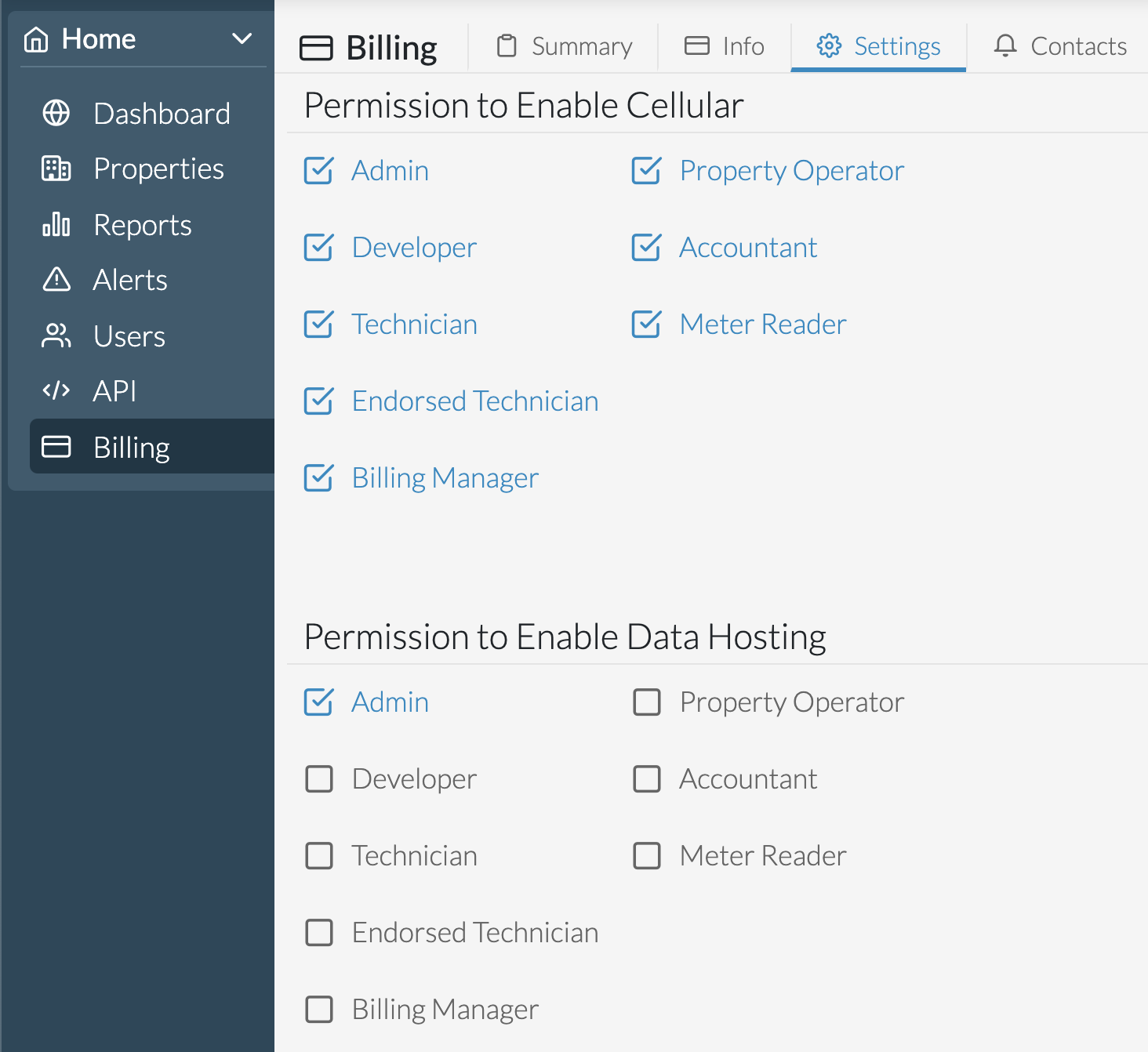 Note: The above settings can only be altered by an Admin and Accountant level user.
Invoices are generated on the 1st of each month for the previous month's services. Payments are due and processed on the 5th. For active billing cycles, an estimated amount is displayed until an invoice is generated.

Upon successful payment, receipts are automatically emailed to designated Billing Contacts. A notice will also be emailed if a payment is unsuccessful. If no payment is received by the 15th, a late notice will be emailed.

Past due charges can be resolved within 90 days, however, no new services can be enabled during this time. If past due charges are unresolved past the 90-day period then any active services will be disabled automatically.

To view invoices, open the Billing page and then select the Summary tab.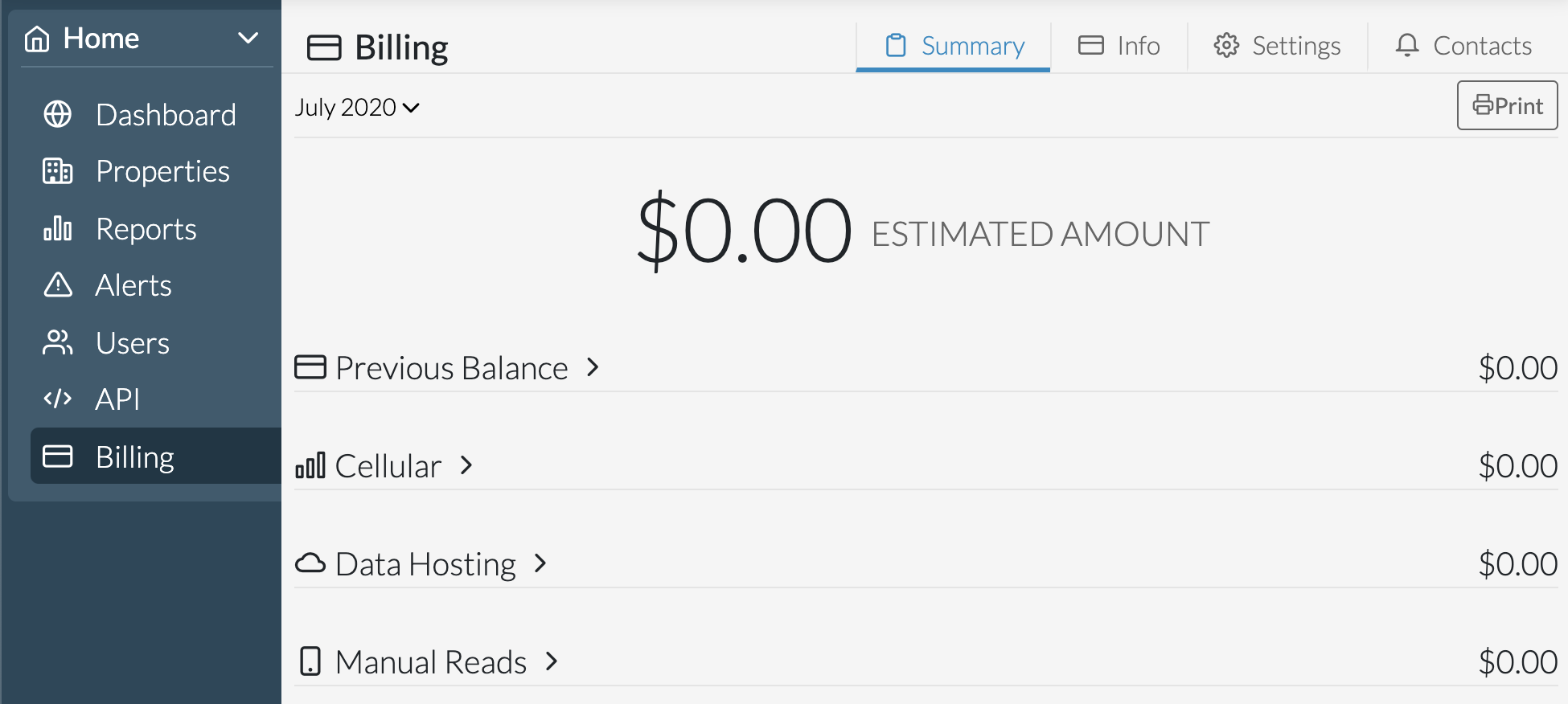 Select a billing period from the dropdown menu.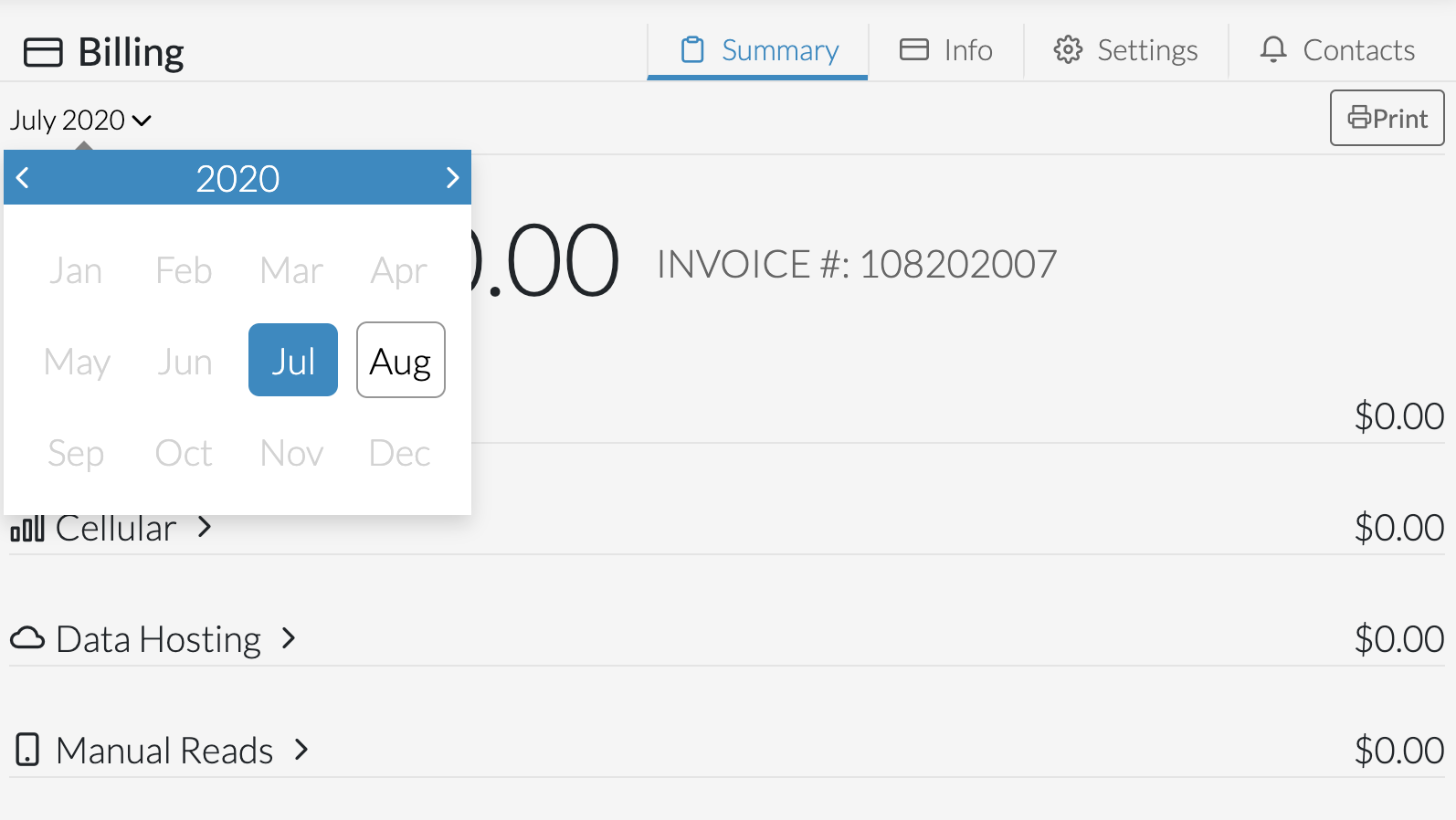 Select the dropdown menus to view properties utilizing each service. Service dates, charges, credits, and other information can also be found here.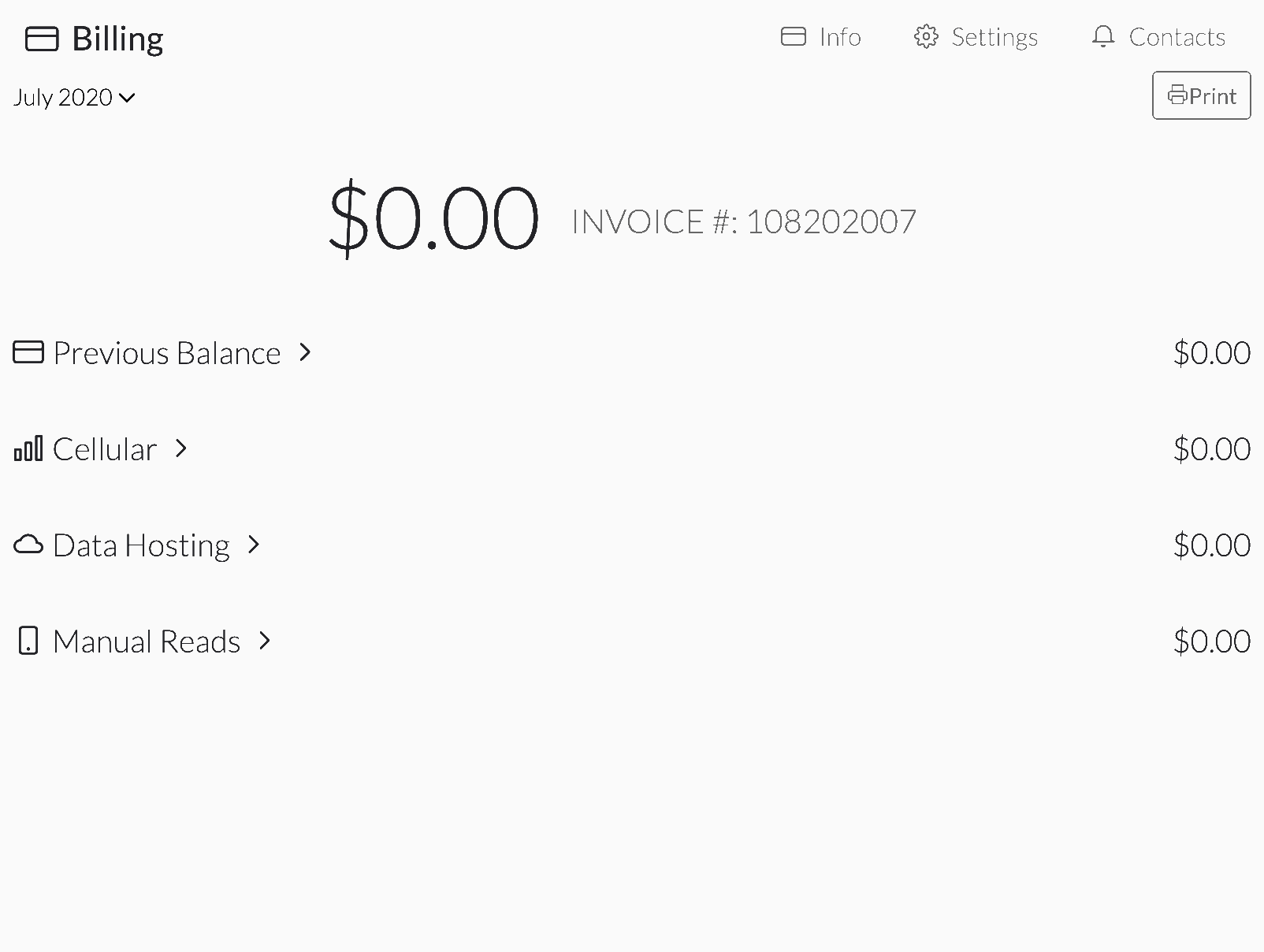 Invoices will be marked as Paid or Past Due after the 5th of each month.


Receipts, late notices, reminders, and notifications concerning billing are automatically emailed to designated Billing Contacts.

To add a Billing Contact, open the Billing page and select the Contacts tab.

Enter the user's email address and select the (Create New) option that appears.

Enter the Billing Contact's name and select Confirm.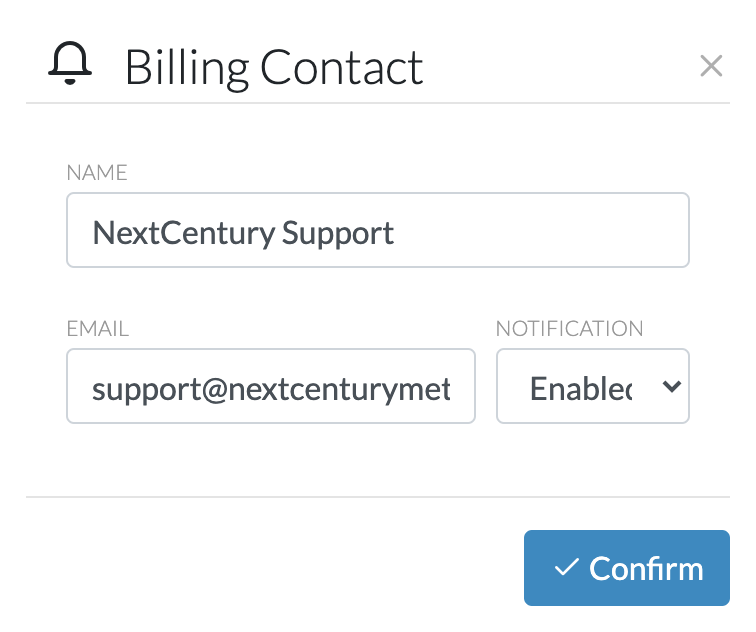 Once added, users designated as Billing Contacts will be listed.

Select a Billing Contact to edit, toggle emails, or delete the user.

Card and bank account payment methods are accepted. Other payment types cannot be processed by our Billing Team at this time. Once added, a payment method is enrolled in auto-pay by default and will be charged for services on the 5th of every month. Payment methods can be removed at any time.

Open the Billing page and select the Info tab at the top to access payment information.

Choose a payment method to enter
To enter a credit card, select + Add Credit Card.

Enter email and card information, then select Save Card.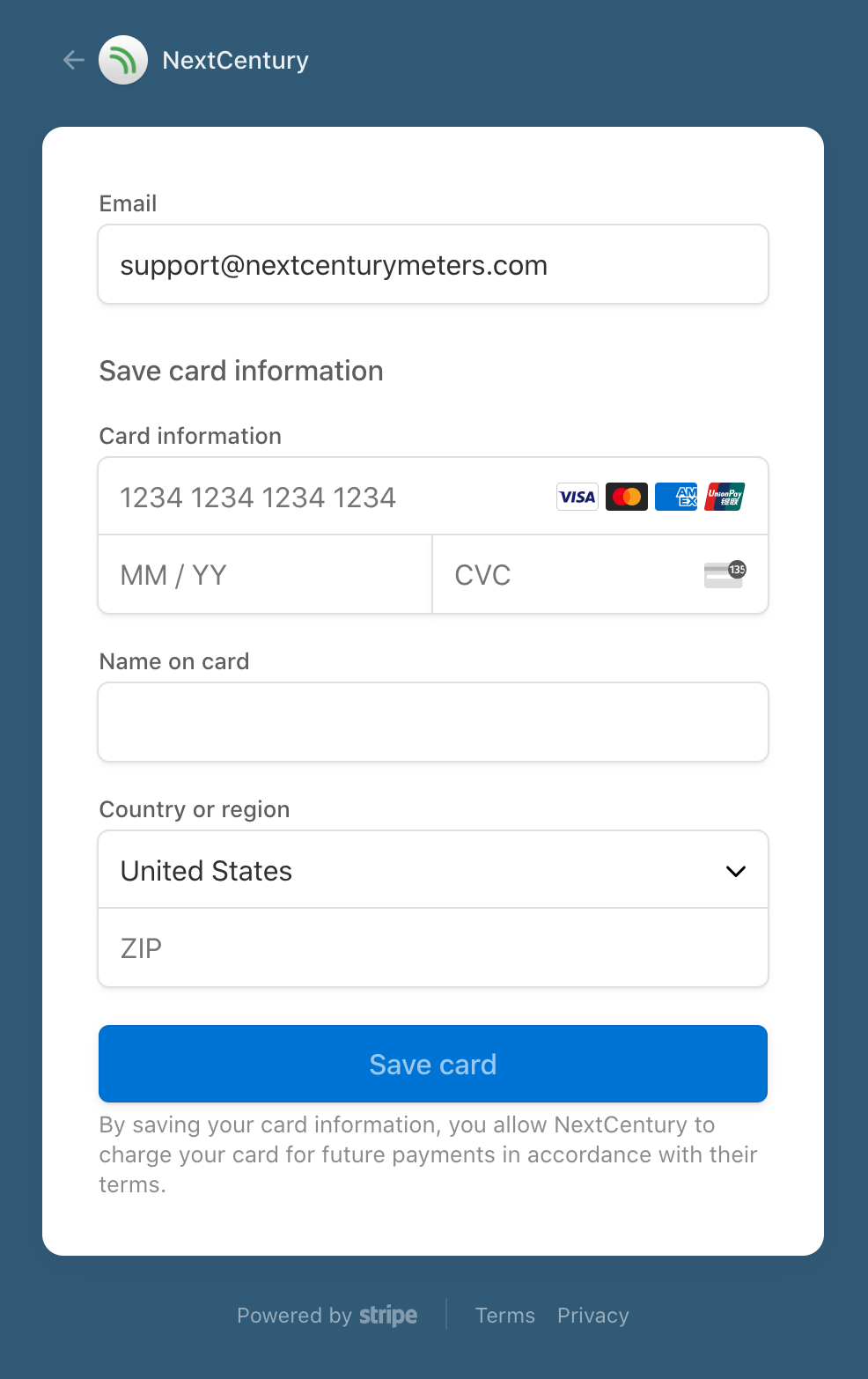 Saved cards will then be listed under the Credit Card section.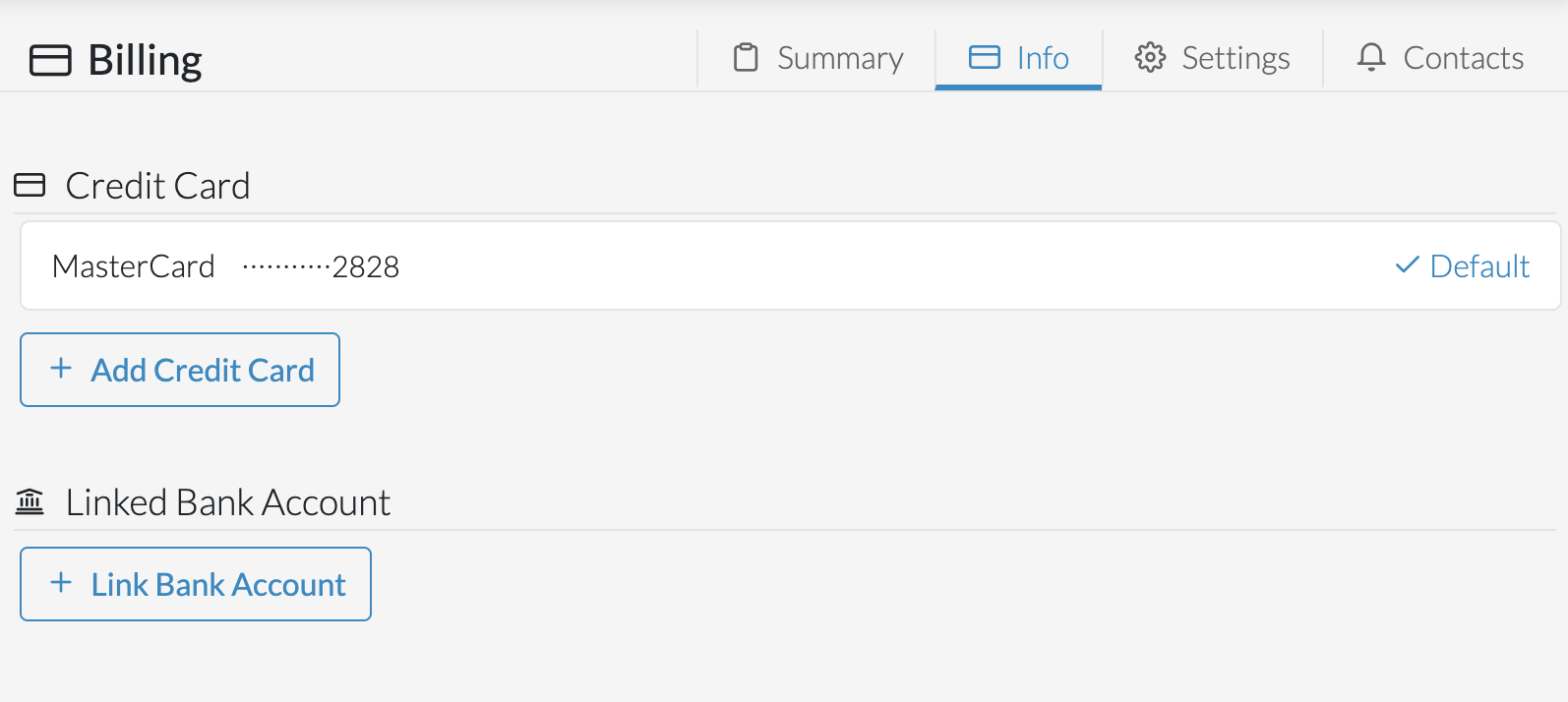 To enter a bank account, select + Link Bank Account.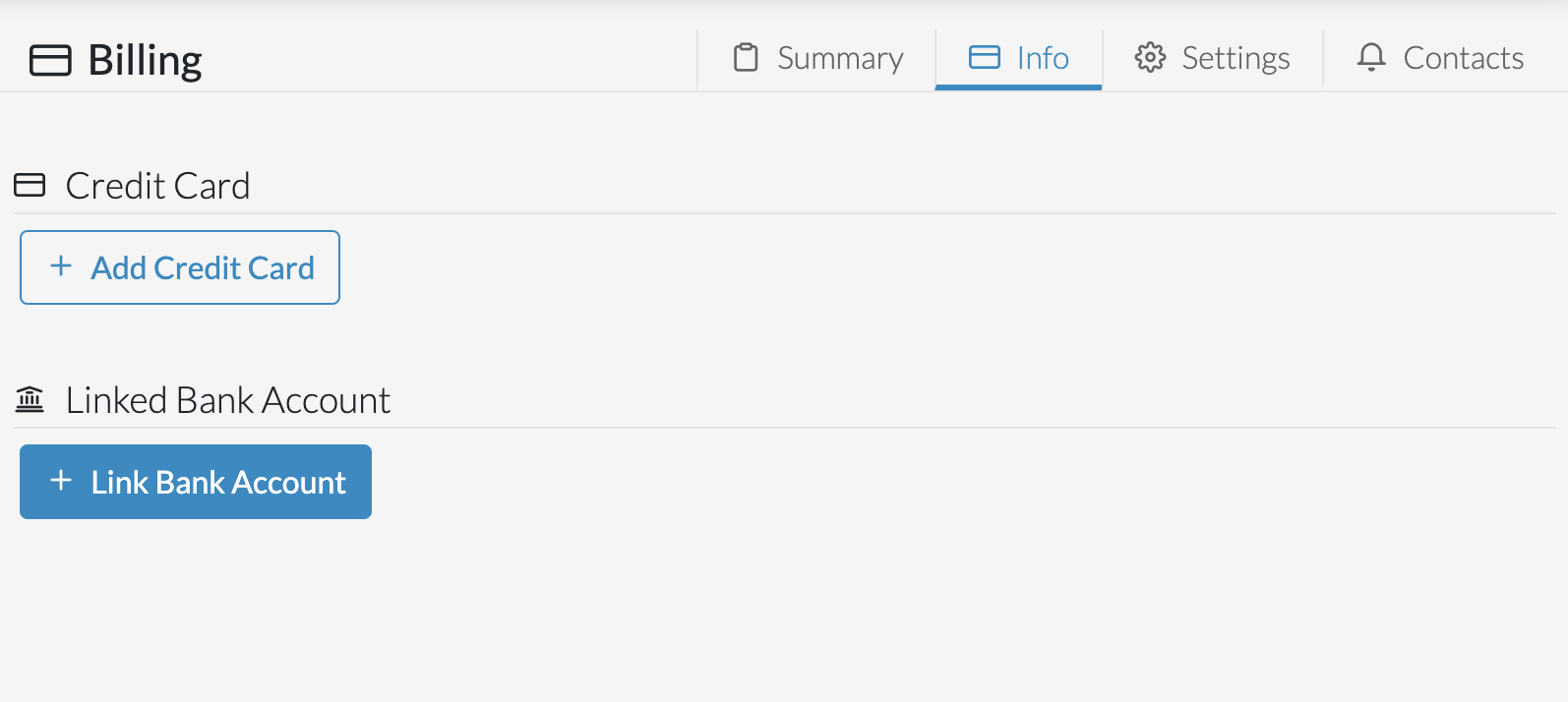 Enter bank account information, then select Add.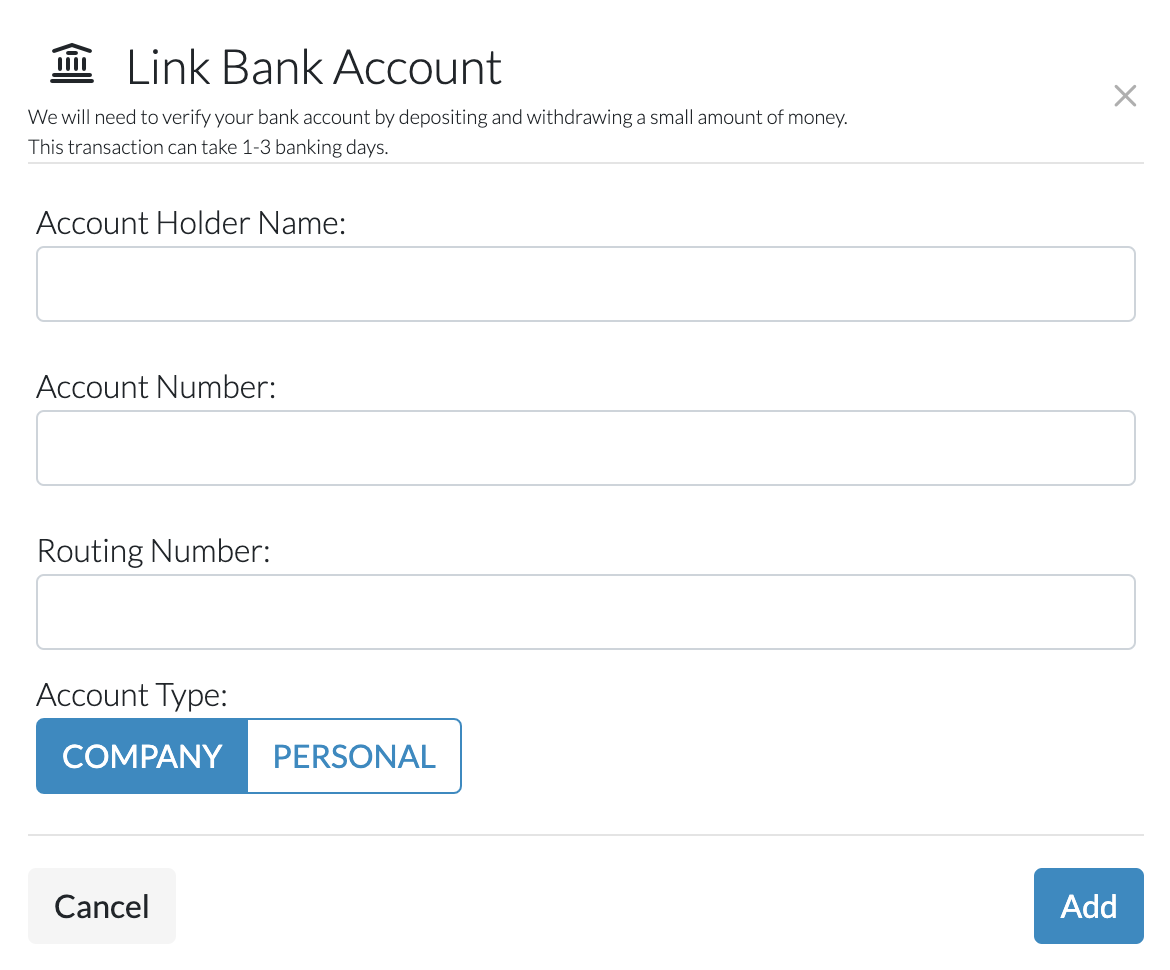 Once added, the bank account will need to be verified. Click on the newly added bank account and select Verify.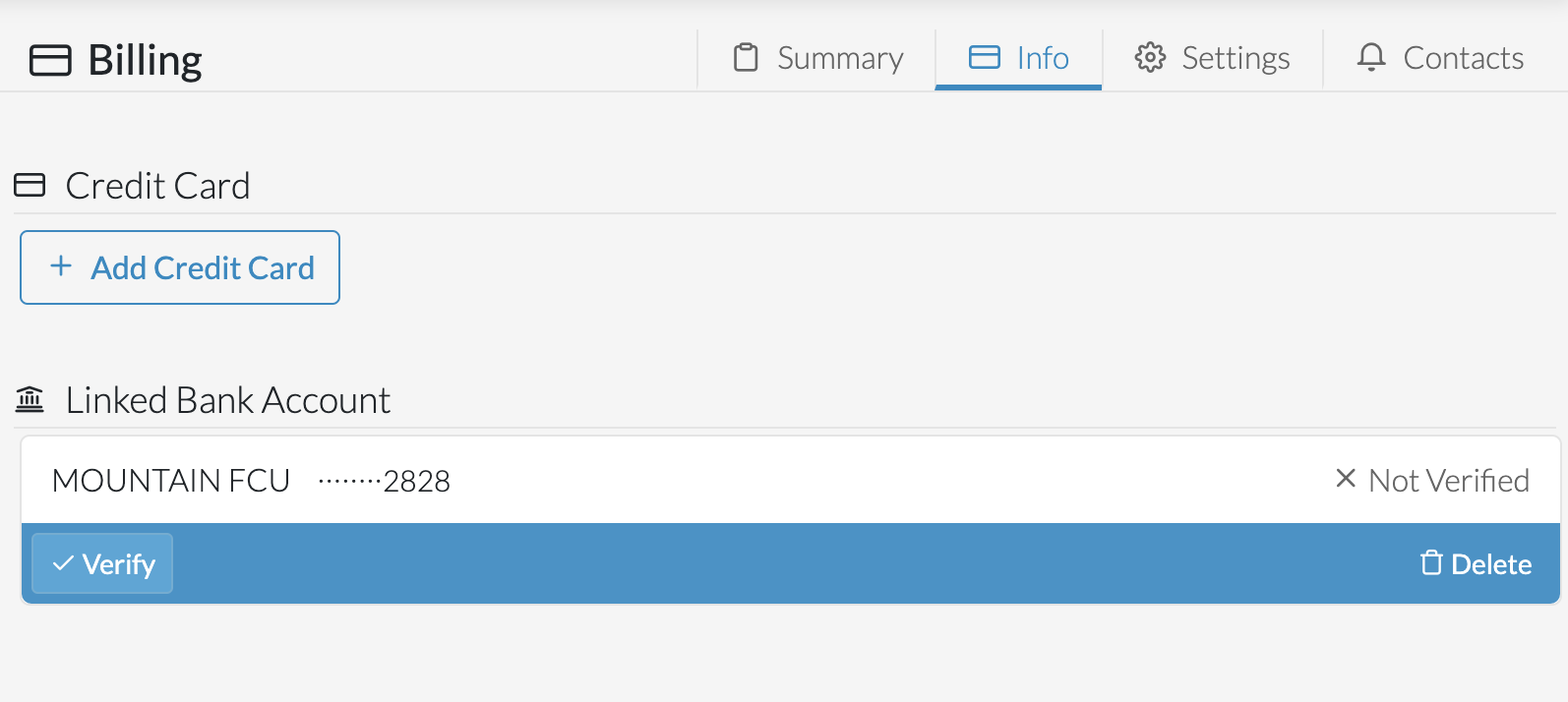 Follow the on-screen instructions and select Verify when done.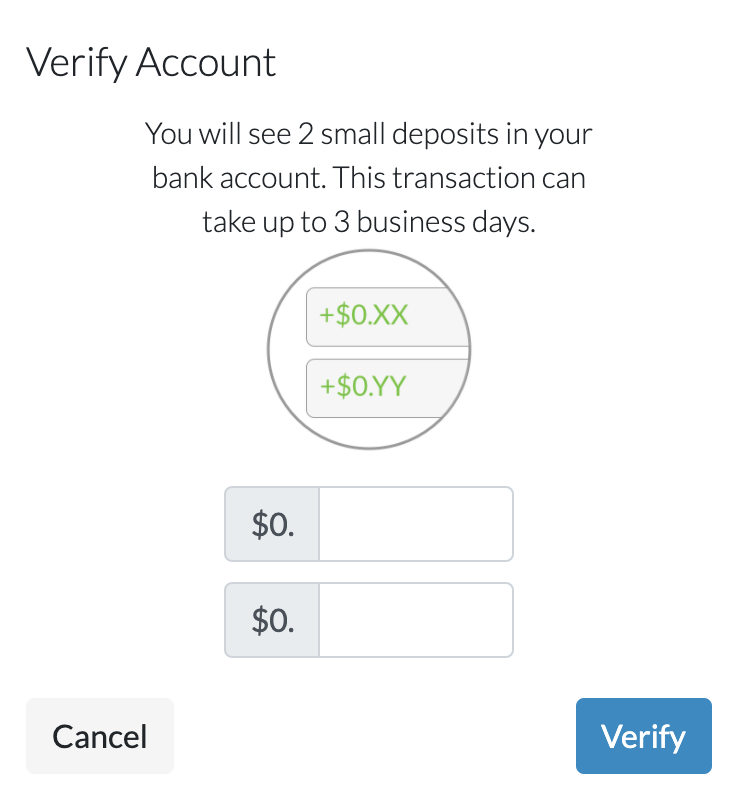 Once verified, saved bank accounts will then be listed under the Linked Bank Account section.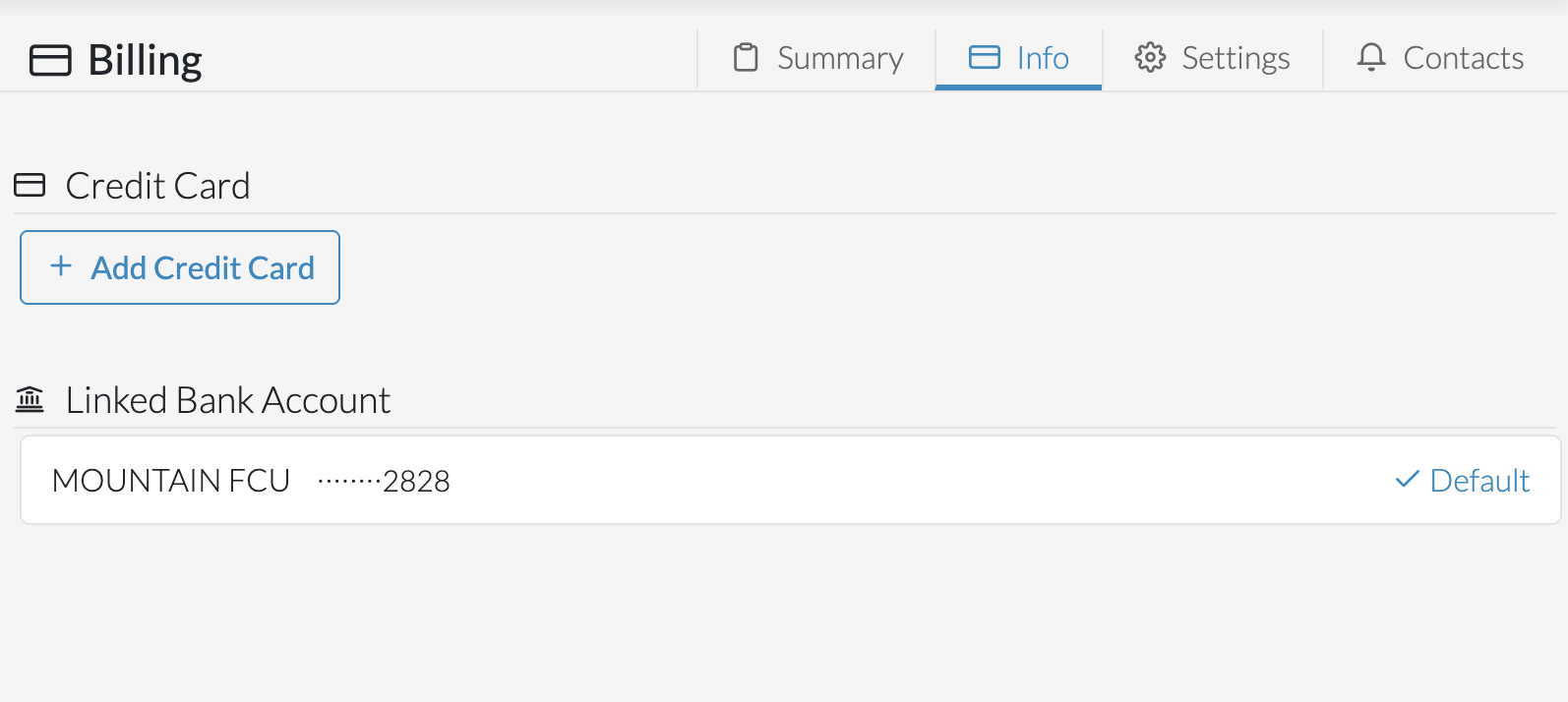 Open the Billing page and select the Info tab at the top to access payment information.

Click a payment method and select Delete.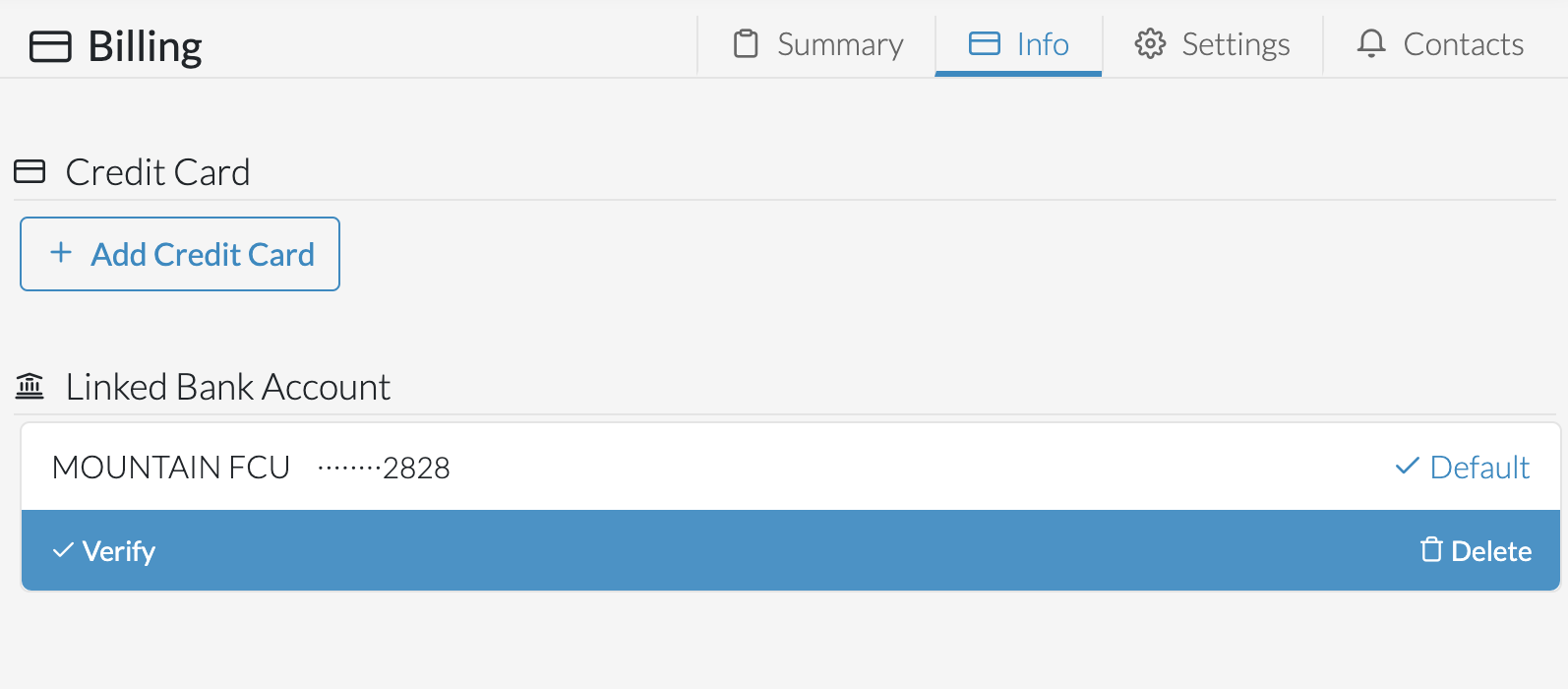 Select Delete to confirm.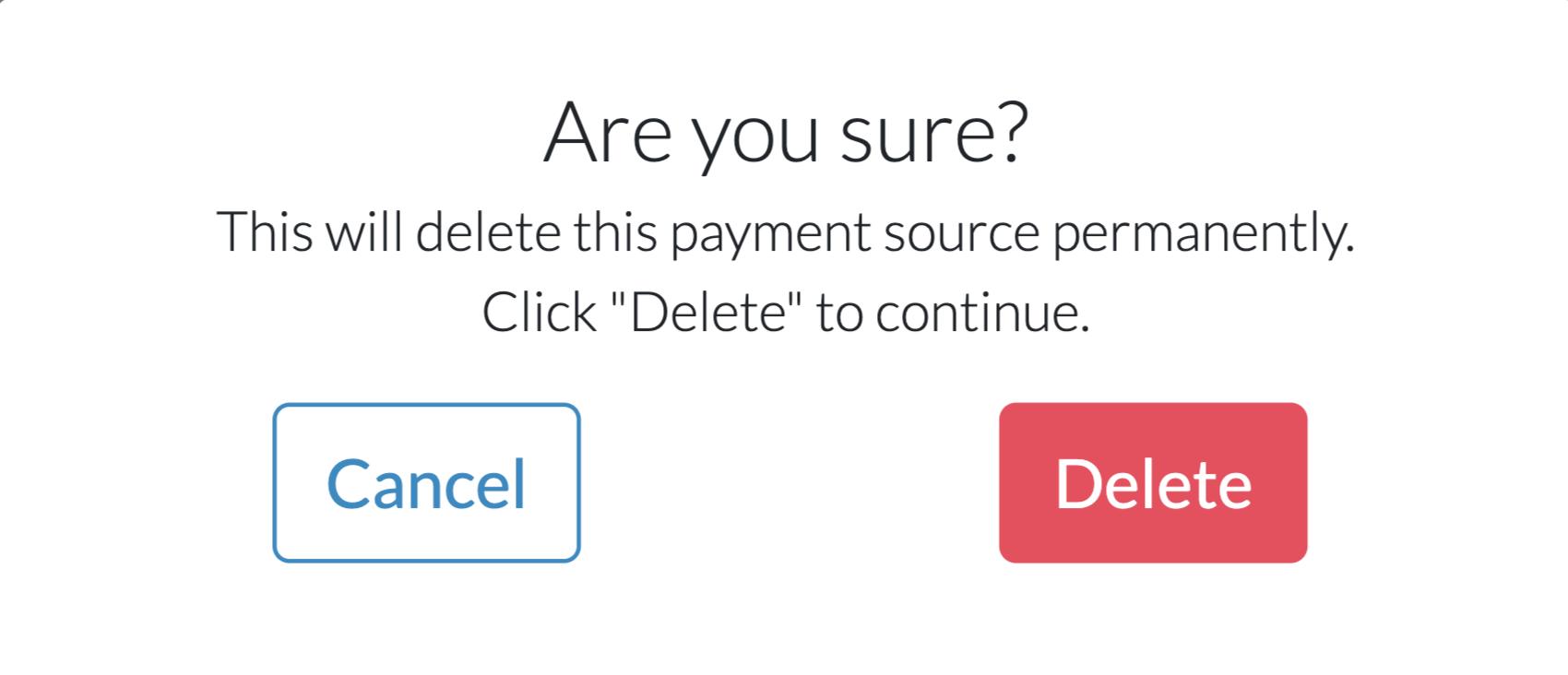 The payment method will then be permanently removed.